Marriage
Dating
Kids
Friends
Family
Personal Development
Addictions
Books on Boundaries

CDs, DVDs, EBooks
for Relationship Improvement
---
---
10 Universal Laws for Parents of Teens
By: Jeff Herring, a Marriage and Family Therapist
You can go splat if you violate the law of gravity. Violate any of these universal laws for parenting your teenager and your parenting could go splat too! Read more . . .
---
---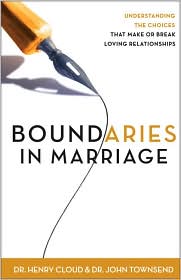 Boundaries in Marriage

---

Rescue Your Love Life: Changing the 8 Dumb Attitudes & Behaviors That Will Sink Your Marriage

---
Boundaries
Consider books on other relationship topics in addition to boundaries for additional help.
The following books are great books on boundaries. I have read most of them and I highly recommend them. They are written from a Christian perspective.
Relationship Issues and Help
| | |
| --- | --- |
| | Check out the Relationship Directory for sites and rate them. If you find them particularily useful, I would appreciate an e-mail about it. Thanks for visiting!! |
---
---
Copyright © 2000, 2001, 2002, 2003, 2004, 2005, 2006, 2007, 2008, 2009, 2010, 2011, 2012, 2013, 2014. healthyboundaries.com. All Rights Reserved.
www.healthyboundaries.org
webmaster@healthyboundaries.org